Wild Plum Jam & Cinnamon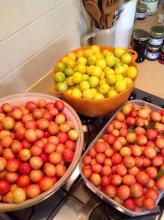 In the woods, next to the pink wild plum, there is a yellow wild cherry plum tree. Its fruits are small and the sweetness of the flesh and the sourness of the skin is perfectly balanced. We cooked the jam as soon as we had carried the fruit back to the Kitchen, and the aroma of wild plums is subtly captured in the jar. The hint of cinnamon adds a touch of perfection to the taste. Very moreish.

Ingredients: Plums, Sugar, Lemon juice, Cinnamon
Will last unopened for 2 years. Store in a cool dry place. Once opened, keep refrigerated and consume within 4 weeks.
In Stock
110g