Damson Jam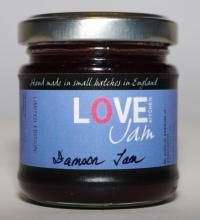 The owner of one little tree in a Hackney garden let me pick some of her fruit. The Damsons were just right and by macerating the fruit overnight we extracted all the flavour and softened the fruit, allowing the jam to be cooked after only the briefest contact with heat the next day. This method allows fruit to retain its texture and preserves the true aroma and taste of the fruit.
Ingredients: Plums, Sugar, Lemon juice
Will last unopened for 2 years. Store in a cool dry place. Once opened, keep refrigerated and consume within 4 weeks.
In Stock

110g 227g