Ginger Carrot Jam & Lemongrass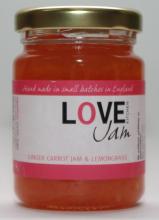 This rich jam is surprisingly sweet. The perfect pairing of ginger and lemongrass mingles with a touch of lemon juice to linger delicately on the palate. Beautiful colour and a lovely texture help this jam to be delightfully unique.
Ingredients: Carrots, Sugar, Lemon juice & Lemongrass
Will last unopened for 2 years. Store in a cool dry place. Once opened, keep refrigerated and consume within 4 weeks.
In Stock
110g