Coriander Carrot Jam & Chilli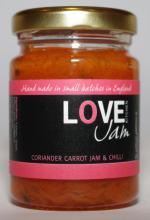 The combination of subtle accents of coriander and chilli flakes gives this jam a most unforgettable taste. Eat it as a jam for a taste adventure or to add a splash of flavour to a bold plate.
Ingredients: Carrots, Sugar, Lemon juice, Chilli and Coriander seeds
Will last unopened for 2 years. Store in a cool dry place. Once opened, keep refrigerated and consume within 4 weeks.
In Stock
110g