Jalapeno Gold Chilli Jam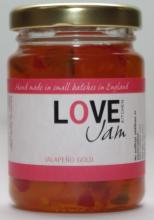 This fiery, sweet and sour jelly with flecks of sweet and chilli peppers colourfully suspended will tantalise the taste buds and leave you wanting more. Try it with cheese or bacon sandwiches, melt it into stir fries, use it to flavour sweet and sour dishes or let it shine with grilled meats.
Ingredients: Sugar, Peppers, Vinegar & Apple Pectin
Will last unopened for 2 years. Store in a cool dry place. Once opened, keep refrigerated and consume within 4 weeks.
In Stock
110g