Raspberry and Dark Chocolate Jam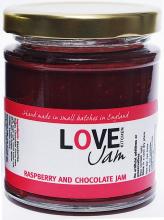 Raspberries are made to pair with chocolate – the ultimate pleasure! Here we used 25g of 56% cocoa chocolate for ever 100g of raspberries. This is a seriously chocolatey experience. For real decadence, use it on crispy buttered, brown toast, or melt a little to enhance many deserts.
Ingredients: Raspberries, Sugar, Chocolate

Will last unopened for 2 years. Store in a cool dry place. Once opened, keep refrigerated and consume within 4 weeks.
 In Stock
110g and 227g