Spiced Blueberry Jam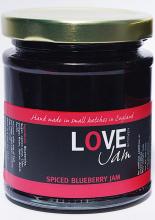 Flavoured with nutmeg and a touch or star anise, this is a jam with a difference. Beautifully coloured and delicately flavoured this is a real treat for winter mornings. Use a small dollop on any pudding and taste the difference.


Ingredients: Blueberries, Sugar, Lemon Juice, White wine vinegar, Apple pecting, Spices

Will last unopened for 2 years. Store in a cool dry place. Once opened, keep refrigerated and consume within 4 weeks.
 In Stock
110g and 227g