Godessa Chutney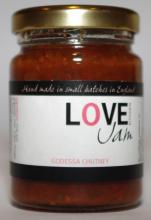 The perfect mixture of tomatoes, apples, onions and spices makes this chutney a classic for all occasions. Aged like any good cheese in a our cool dark cellar for a minimum of two months, the maturity of flavours and the balance of sweet and sour is perfectly achieved.
Ingredients: Fruit and vegetable pulp, Sugar, Vinegar & Spices
Will last unopened for 2 years. Store in a cool dry place. Once opened, keep refrigerated and consume within 4 weeks.
In Stock
110g