Fig, Cranberry and Port Chutney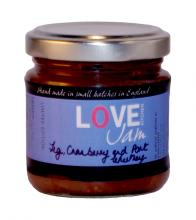 Figs, Cranberries, Apples, Oranges and spices enhanced with port for a delicious treat. Will go well with any hard cheese, but it is especially delicious with stilton.
Ingredients: Fruit and vegetable pulp, Sugar, Vinegar, Port and Spices
Will last unopened for 2 years. Store in a cool dry place. Once opened, keep refrigerated and consume within 4 weeks.
In Stock
110g