White Peach and Rose Petal Jam
After toing and froing at what to marry with the delicious white peaches, bought at the market, we decided on the rose petals.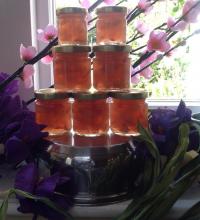 The colour of the peaches and the last of the roses from my garden were just made for each other. This is not to say that in the near future, I will not be making some with the jasmine tea, or with honey and lavender, and will certainly try to combine it with a handful of prunes and a dash of eau de vie of some kind! Watch this space.