News & Testimonials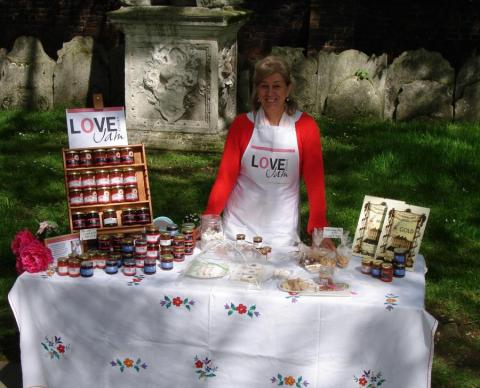 "...a couple of customers came in to the shop last week asking about your marmalade. They were saying it was by far the best they have ever tasted."
         Philip, A Gold Shop
You should have seen some of the expressions on people's faces today after trying your pear and saffron jam: utter delight. You are a bringer of joy!
             Steph Gillespie, manager Paper & Cup Coffee Shop
I adore Love Jam Kitchen's Balsamic Strawberry Jam & Claret. It is the ultimate strawberry jam. Once you try this one, ALL other strawberry offerings just taste a bit bland and one-dimensional. I was never really convinced about the whole strawberries + balsamic idea – I am now! And the claret gives a depth and darkness to the jam without a winey taste that makes it a thoroughly grown-up treat. This is the only strawberry jam for me.
                 Anna, Love Jam Kitchen's No.1 fan
We took the saffron pear jam with chili on a summer picnic and had it with game pie. It was wonderfully sweet with just a hint of heat to cut through the strong flavours of the pie. Quite delicious and we look forward to trying new varieties soon.
                 Tom Johnston

I just wanted to say thank you for the pot of rhubarb, apple and beer jam. I had a little on some hot buttered toast earlier. The beer flavour is actually quite subtle isn't it? Delicious.
Le marmellate alle cipolle rosse e alle carote mi hanno piacevolmente sorpreso! Nulla di più armonioso con la mia selezione di formaggi italiani! Amo le Love Jam!!
I love your chutneys. Over the years, I would get a jar now and then and my cheese sandwiches would acquire a whole new
mean
ing for me. The blend of sweet and sour with the s
ubtle spices makes them very versatile and I love trying them out with many different things. Keep making them!
I'
ve known Love Jam Kitchen's head Chef for a long time, and had the very good fortune to be the recipient of a few pots of red-onion marmalade over the years. It is now a staple in my fridge and I start making subtle queries about new batches when I see I've run a bit low. Cheese just isn't the same without a splodge of that purpley goodness on the side of my plate.
              Omar in Abu Dhabi
Your Rhubarb, Apple & Pilsner Jam is simply my favourite jam! It seems from the name, an unlikely combination, but its honey-like sweetness allied to the slightly chewy tang of the rhubarb and apple is a sensation. Thank you LJK!
               Chris, London
Love Jam Kitchen's jams and chutneys all have that home-kitchen "loved" taste that comes with small batches, great ingredients and a commitment to quality. Over the years I have sampled lots of their creations. All delicious!
                Suzie Hutton
Thought I'd give you some feedback on the raspberry & lemon, which I opened in Frankfurt last weekend. I went out to get the best possible white loaf from the local posh bäckerei to try the jam on.  It was scrumptious and I managed a whole half a jar in one go!  I love the tartness of the lemon even though it kind of over-powered the raspberry. I look forward to trying the marmalade this weekend.
                Lay Peng Lim